VisionsGolf is supported by its readers. If you buy through our links we may earn an affiliate commision. Learn more.
If you're a golfer and you're serious about improving your performance and lowering your score, then using the best golf launch monitors can do the trick, with commitment and consistent practice sessions. A launch monitor is the core of most golf simulators and they allow the user to analyze and measure their ball flight data in order to track their shots so they can understand what needs to be done in order to improve their performance.
Buying a launch monitor should be considered a serious investment and a useful tool that can significantly improve your performance. Considering the fact that they're also pretty pricey, doing your research will be important in order to find a model that has what it takes to accurately analyze your golf swing.
I've tested out many of the leading launch monitors in my search to find the best, most accurate models on the market. I've narrowed it down to six of the must-have launch monitors that can make a huge impact on your performance. I've also put together a buyer's guide that lists all of the important features to look for in order to find a launch monitor that includes all the tools and features you need to see a serious improvement in your performance.
Below, you'll find a comparison chart that includes each of the models on my list, the important features they have to offer, and how they rated.
Golf Launch Monitors Comparison Chart
Product
Technology
Indoor or
Outdoor
Tracking
Features
Rating
Rapsodo Mobile Launch Monitor


Shop On Amazon!

Doppler
Indoor & Outdoor
6
Ernest Sports ES14 Pro


Shop On Amazon!

Doppler
Indoor
6
Voice Caddie Swing Caddie SC300


Shop On Amazon!

Doppler
Indoor & Outdoor
6
Garmin Approach G80


Shop On Amazon!

Doppler
indoor & Outdoor
5
Voice Caddie Sc200 Plus


Shop On Amazon!

Doppler
Indoor & Outdoor
4
Fighting Golf Impact Trainer


Shop On Amazon!

In-Club
Indoor
2
Rapsodo Mobile Launch Monitor for Golf
This mobile launch monitor will use the power of your smartphone in order to provide you with instant launch data feedback. It also features active shot trace and instant video replay. The system can be set up in under a minute, which makes it a very beginner-friendly system that's perfect for golfers who aren't very tech-savvy. To use, all you have to do is download and open the app, connect your phone via Bluetooth and get started hitting. According to the manufacturer, this model offers pro-level accuracy with a distance accuracy of two and a half percent. Using the real-time video feedback you can take advantage of data overlay and shot trace features, both of which will allow you to better understand cause and effect. You can also access your hitting history and view your standard deviation, trajectory, and dispersion and averages with each club. Using your phone's GPS, you can view where each of your shots has landed and what your actual range is.
Pros
Mobile
Operates via Bluetooth
Can be set up in under a minute
Accurate
Cons
Price
Only works with iPhone 7 and up
Conclusion
This system allows you to focus on your game by offering pro accuracy for shot shape, launch direction, launch angle, club speed, ball speed, and shot distance. You can review your shot history in order to improve your game, and share videos of your performance with friends. If you're looking for a mobile launch monitor, one that you can use for practice indoor and outdoor, then you'll appreciate this system's highly portable design, ease of use, and overall versatility.
Ernest Sports ES14 Pro Portable Launch Monitor
This system allows you to track important data, instantly, providing a wide range of important stat based information such as distance, spin rate, smash factor, ball speed, launch angle, and club speed. This package comes with the ES14 app that's compatible with both Android and iOS phones and allows you to store your audio feedback, club averages, and shot details. You can also email your data to friends and family. This system is designed to enhance your club-fitting, teaching, and learning experience, using Doppler technology to measure and track important data that can have a major impact on your golf game, allowing you to correct issues with your swing in order to instantly improve your score.
Pros
Works with Android and iOS devices
Comes with six tracking features
Free app
Stat history feature
Conclusion
This system earned top marks for its ease of use, portability, and the ability to monitor six tracking features that will help you take your game to the next level. If you can't afford costly golf lessons that can cost thousands of dollars each year, then this system is an excellent investment and a training tool you can really rely on, thanks to its reputation for accuracy.
Voice Caddie Swing Caddie SC300 Portable Golf Launch Monitor
This launch monitor will measure and track ball speed, apex, swing speed, launch angle, smash factor, and total distance. It also utilizes Doppler radar technology, which has a reputation for accuracy and reliability, unlike other types of launch monitor technologies that are used with competing systems. This model can measure a range of fifteen yards up to three hundred and seventy yards and provides instant feedback via the LCD display. This model allows you to download a dedicated app that's compatible with both Android and iOS devices.
Pros
Compatible with iOS and Android devices
Six tracking features
Includes remote
Provides real-time data
Cons
App tends to freeze
Cannot share tracking data
Conclusion
This system includes six tracking features and provides data in real-time via the handheld component's LCD screen or the app. Setting up this system is fast and easy, which is a huge plus for most users. If you want to accurately track your progress and in real-time, this system by Voice Caddie delivers.
Garmin Approach G80 GPS Golf Handheld Device with Integrated Launch Monitor
The handheld device features a three and a half-inch touchscreen display that's easy to read, even in bright light conditions. This model relies on Doppler radar technology for the most accurate feedback and can track estimated distance, swing tempo, smash factor, ball speed, and club head speed. This model comes preloaded with more than forty-one thousand golf course maps from all over the world, so you can view the layout and get a feel for the course before you play there. The included practice modes will allow you to improve your game and put your skills to the test, making this system a great training tool for players of all skill levels. This model is also compatible with the Garmin Golf app, which will allow you to connect, compare, and compete with other golfers who use this app.
Pros
Compatible with Garmin Golf app
Includes over forty-one thousand maps of golf courses all over the world
Touchscreen display
Accurate
Easy to use
Cons
Only includes five tracking features
Conclusion
This model is designed for indoor and outdoor use and comes with a battery that lasts up to fifteen hours, even with GPS use. Reasonably priced and loaded with more features than your standard launch system, this latest handheld launch monitor is a must-have for the serious golfer who wants to immediately lower their score and improve their performance.
Voice Caddie Sc200 Plus Portable Launch Monitor
This is one of Voice Caddie's most popular feature-packed launch monitors. It includes a practice swing mode which will allow you to focus on practicing and measuring your swing speed, without having to hit a ball. It also includes selectable loft angles, barometric pressure calibration, voice distance output, and can measure a range of thirty yards up to three hundred and twenty yards. The system measures smash factor, ball speed, swing speed, and carry distance.
Pros
Practice swing mode
Selectable loft angles
Measures carry distance
Easy to set up
Cons
Does not include an app
Only includes four tracking features
Conclusion
While some golfers may be disappointed that this system only includes four tracking features, the system itself has earned a reputation for accuracy and ease of use. The practice swing mode will allow you to practice your swing pretty much anywhere, including your living room, since you don't have to hit a ball to receive instant feedback on your performance. While this model doesn't include a dedicated app, the handheld device will provide you with instant data readings, so you'll know immediately what you need to do to improve your performance, which is exactly what every golfer is looking for.
Fighting Golf Impact Trainer
If you're looking for an alternative to Doppler radar technology launch systems, then this affordable in-club trainer is a great, affordable option. While it may not be as feature-heavy as higher-priced models, this system does a great job of tracking your progress. The club will help you focus on club and body movement for improved performance and can be used indoors at home or at the range. The included impact golf ball will stick to the strike shield, providing instant feedback, allowing you to immediately adjust your swing technique for faster results and a lower score. This in-club system will track your club speed and distance, whereas higher priced systems will provide up to six tracking features. While the lack of tracking features may be a drawback for some potential buyers, this is a great choice for the beginner or casual player in need of more guidance.
Pros
Easy setup
Portable
Great for beginners
Low price
Cons
Only includes two tracking features
Indoor use only
Conclusion
This system is designed for indoor use only. It will allow you to safely practice indoors and take full swings. Setup is fast and simple and is perfect for beginners who are not searching for a system that's designed for low handicappers. In-club systems may not be as accurate as high-priced launch monitors that include a wide range of features, but if you're on a tight budget and looking for a system that will provide only the essential tracking information, then this model is a great buy.
Golf Launch Monitors Buyer's Guide
In the past, having a launch monitor in the comfort of your home seemed impossible, considering top of the line models ran into the thousands. But these days, many of the biggest manufacturers in golf are now producing budget-friendly options that will allow you to practice your golf game in the comfort of your own home, at a price that won't hit your wallet too hard. But how do launch monitors work and how can they help to improve a player's performance out on the green?
Knowing your ball and club data can be invaluable if you're serious about golf and you're searching for an affordable training tool that can provide the type of results you need. These machines will allow you to analyze your performance, tracking ball flight data to allow you to better understand what changes you need to make in order to improve.
But considering the steep price, not everyone can afford a launch monitor. Fortunately, the advancements in launch technology have made them much more affordable than what they were just a few years ago. These days, you'll find several options available that will work with every budget.
So, what makes a great launch monitor? Accuracy will be the most important factor, but you'll also want to pay close attention to its size, the number of data points, and the type of technology the machine uses.
A launch monitor in your home can be a substitute for going to the driving range, or even professional lessons. Probably the biggest benefit of owning one is the immediate feedback it provides. The goal of a launch monitor is to help you change your performance in order to improve your swing instantly.
These monitors will measure spin, carry distance, and club head speed, at a minimum. These features will help the user optimize their ability to make changes to their swing in order to improve distance and swing power.
It's important that you find a launch monitor that measures the shot parameters that you're interested in and a model that's accurate and reliable. A golfer that's skilled will need a model that's very accurate and will probably use this machine more often than the casual golfer.
Below, I'll go over the most important features to look for in your new golf launch monitor.
Parameters
The first thing to look at is the type of ball and club parameters that the launch monitor tracks. Less expensive monitors will track fewer parameters, while high-priced models will usually measure more.
Many serious golfers will want key metrics such as ball speed and distance, both of which most monitors track. If you're looking for models that offer a more detailed analysis with angle of attack and swing plane information, then you can expect to pay more.
Accuracy
Just because a model is more budget-friendly doesn't mean it's not highly accurate. However, at the same time, you can't expect a model that costs a few hundred dollars to be as accurate as a model that costs thousands.
Indoor or Outdoor Use
Do you want a system you can use indoors or outdoors? Are you looking for a model that can be used both inside and out?
Some models will only work outdoors, in order to allow the ball to take its full flight, while others are designed specifically for indoor use. If you want a model that can be used while you hit a ball into the net, then make sure you find out how much ball flight clearance it requires in order to work properly.
App Use
Many new models of launch monitors can be paired with an app, which gives you more ways to view your data and track it closely. Some systems will come with their own software, for a higher price.
Ease of Use
If you're not very technology-savvy, then the last thing you want is a launch monitor that's complicated to set up and use. Look for a model that earned a high rating for its user-friendly interface.
Improvement Options
When a golfer is shopping for a launch monitor it means they're looking for a way to improve their performance and lower their score. Systems that enhance faster game improvement and growth are exactly what you need. Models that are designed to improve your shots, help with course and game management, flight path control, and distance control will have the biggest impact on your score when you're playing on the green.
A model that truly focuses on improving your skills will use advanced analytics and software, which you can rely on to make recommendations and review your shots. Live in-training or on-course feedback such as shot tracing feedback or video replay will be helpful when it comes to understanding your swing and game.
Measurements
Almost any number of statistics can be tracked, depending on the type of technology that's used. Most systems will measure spin, speed, ball flight, carry distance, and club head speed. If you want a model that can help you understand the mechanics of changes made to your swing and how each type of change can translate to improved accuracy and distance, then more measurements will be needed.
For users who want a model that can track their shots on carry distance overlapping, course flight path, then using a model that comes fully loaded will be important.
Improving Your Game
So, how can a launch monitor really improve your performance out on the course? These machines will use immediate feedback and narrow in on minor shot changes and how it can translate to the course. As an example, a one-degree change in your club head approach angle can result in a change in your distance by twenty yards or more.
A good launch monitor will provide the user with a real-time look at their shots, without the need to spend thousands of dollars on professional lessons. Small changes to your swing can be shown using advanced metrics instead of you having to guess at what went wrong in your shot and how to fix it. Now, you can track your progress on the course and make the appropriate changes on the fly in order to lower your score when you're out on the course.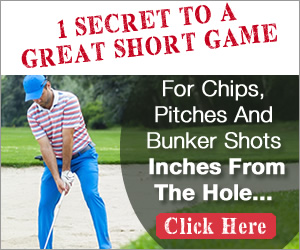 Technology Options
There are several different types of launch monitor technologies to choose from. Each type will have its pros and cons. The primary technology that's used for most systems these days is Doppler. It has a reputation for being incredibly easy to use and reliable. This technology works by bouncing microwave frequencies off an object, then analyzing the return frequency, using algorithms to output the desired info. Monitors that use this type of technology have a reputation for their ability to accurately measure launch angle, flight place, and measuring distance.
In-club technologies will use proprietary software in order to pair a club device to a phone interface in order to track a user's shot in real-time. However, this type of technology is not quite as accurate as a model that relies on doppler and most are usually able to measure ball specific statistics such as spin, yet they're easier to use and don't require as many adjustments as a system that relies on Doppler technology does.
Models that operate via camera technology will rely on small cameras with fast shutter speeds that are designed to take hundreds of images in a split second, allowing the system to take a variety of measurements of the club head and ball speed. Algorithms will analyze the different images and translate them to down range flight spin and distances.
Each type of technology will have its benefits, depending on what the golfer wants to achieve in their game improvement or training regiment. Doppler technology is the best choice for real-time updates in flight paths because it's able to return data rapidly and make adjustments during ball flight.
Models that rely on in-club technology will merge shot tracking and portability, yet these systems lack advanced statistic measurements.
Smash Factor
The smash factor is one of the most popular stats that's come out of the introduction of launch monitors. This number will allow the player to see how efficiently they're striking the ball and it's incredibly easy to calculate. The number is the result of dividing the ball's speed by the speed of the club face.
If you've ever tracked the data of tour pros, then you'll have seen that they usually have an average smash factor of one and a half.
Spin
Knowing the amount of spin you're placing on a shot can help when it comes to optimizing your equipment. A launch monitor has become an important part of custom fitting clubs, allowing the player to tweak their existing clubs in order to get the most out of their performance. When practicing with your new launch monitor, you may come to realize that a change needs to be made to the shaft on your driver since you're putting way too much backspin on your tee shots.
The Benefits of Launch Monitors
Launch monitors have revolutionized the game of golf and how players can practice. These days, many golfers who want to improve their performance are now looking into buying a launch monitor instead of paying thousands of dollars a year on expensive golf lessons.
These systems were first invented by the military and used to test missile technology, which is what makes them the perfect tool to use to measure your shots. These systems provide players with the data on what the ball is doing and why it flies the way it does.
Thousands of readings go into working out why you keep hitting that slice.
When you go to a driving range, you've probably seen plenty of players mindlessly hitting balls. These players will hit one shot after another with no real purpose or objective. But by using a launch monitor as an alternative way to improve your distance, you can really start to learn about your game and what you're doing incorrectly. Many ranges now offer launch monitor technology that's paired with an app, so you can easily take your data with you and have a look at it when you get home. If you've tried the launch monitor at your local range, then you may have realized that some of the distances from your clubs were off, which caused you to have your clubs checked. If you hadn't used the launch monitor, then you wouldn't have known there was an issue with your clubs.
Outdoor photometric models are great systems to use when you're looking at your performance when the wind is up. They also make great indoor models as well. Due to their design, the weather will not have an impact on how these systems perform or how they read ball data. Additionally, the ball only has to travel a few centimeters in order for the system to receive the type of data it needs.
The club path analysis that many models offer can also provide great benefits for the player who desperately wants to improve. The steepness that your club approaches the ball, also known as the angle of attack, is an important area of interest since it has a big implication for backspin. Additionally, the club's rotation through the ball and the face angles at impact can also be measured in great detail. If you want to really know more about your distances, and how you hit the ball, then one of these systems can really help.
Are These Systems Worth the Steep Price Tag?
Top of the line systems don't come cheap, especially if you're interested in systems that use Doppler based technology. These are the systems that many of the pros use and they can cost thousands of dollars. But, if you're serious about your golf game and you have the money, they're definitely worth the high price tag.
Yet, you don't have to break the bank to buy a system that offers the type of comprehensive data you need. Photometric systems cost less and can offer essential information that will have a huge impact on your performance and what changes you need to make to improve.
Practicing With Your New Launch Monitor
While it's true that lower-priced models don't allow you to track your data as closely as higher-priced launch monitors, many of them will track the following info:
 Carry distance
Height
Spin rate
Launch angle
Ball speed
For most players, this will be enough. But how do you use these stat tracking features to become a better player?
Using your wedges is one of the most effective ways to get the most out of one of these systems. Playing well with your wedges is all about distance control. Practicing effectively with your wedges is all about focusing on what type of swings you need to take in order to hit the ball between forty and eighty yards. Once you begin to get the feel for each distance and utilize wedge gapping, then you can really begin to test yourself.
The goal is to become consistent with your shots. Achieving a consistent golf swing will involve finding a rhythm and swing speed that will result in solid contact. Bad shots can still happen, however, identifying the common underlying cause can allow you to avoid many mistakes beginners and high handicappers make. Using one of these systems can help you to identify not only how far you hit with each club, but it can also make tracking the distances in which you hit your highest percentage of good shots, a breeze.
Every golfer wants to know what they need to do in order to hit their driver farther. You can use the metrics that are provided by your launch monitor in order to track your progress over time since ball speed is crucial when it comes to increasing your overall speed. Top of the line models will also provide you with another critical metric; launch angle.
When you're practicing with your launch monitor, there are a few ways you can experiment that can help you to optimize launch angle and ball speed:
Use a foot spray to identify where your impact tendencies are on the driver's face. Try to avoid hitting too low on the face, which will have a huge negative impact on your distance. The goal is to strike it on the center of the face.
Next, try experimenting with tee height, which will also help to maximize distance. You'll soon see how high, medium, or low tee height can change your data and impact tendencies.
Where the ball is positioned can also make a big difference when it comes to how much distance you get.
Many golfers are focusing on training their body to move faster via workouts and speed training with their launch monitors. These systems can track how your training is transferring over to swing speed and your total distance.
Final Thoughts
The best golf launch monitors can be a total game-changer. These systems will provide actual data that represents what a ball does during flight and they can help you work out basic things such as what causes a hook, draw, or a fade. These systems can teach players how to control a ball properly, and how to play in high wind conditions. Best of all, you don't have to break the bank to afford a good model and one that offers the type of accuracy and features you need in order to really improve as a player. The pros rely on these systems to help them continue to improve their performance and provide them with accurate data that allows them to adjust their swing, change up their gear, or work with certain weather conditions.
Basically, these systems will make you a better player by narrowing in on exactly what's going on when you hit a ball and what you need to be doing differently. If the pros rely on these systems to help challenge their skills and make them a better player, then it's really no surprise that these systems are sought after by serious golfers who can't afford the high cost of monthly lessons or those who want the ability to practice golf any time during the week, right in the comfort of their home or own backyard. The six models I've included in my must-have list each have what it takes to take your skills to the next level and blow your friends away by the major changes in your performance. I'm confident that you'll find the perfect model in my top six list, one that will allow you to grow as a player and avoid the same mistakes on the course that have been plaguing you all season, and finally help you to significantly lower your score for good.